Hypnosinstitutet has certifying programs in hypnotherapy approved by the A.C.H.E., teaches self-hypnosis, conducts workshops, smoking cessation for people wanting to stop smoking through hypnosis, holds private sessions and does consulting work.
Håkan Källving is a Certified Clinical Hypnotherapist, certificate-number: C.C.H.T.-101038, trained by schools connected to A.C.H.E * (American Council of Hypnotist Examiners). He has today thousands of hours of experience from hypnotherapy training through schools like HTI (Hypnotherapy Training Institute), SACH (School of Analytical and Cognitive Hypnotherapy) and Hypnotherapy Academy of America. He has also studied with several of the world's leading hypnotherapy experts.
Håkan has been featured in the media in both radio, tv and newspaper/magazine articles. Here are a few examples:
Guest in IKEA:s campaign "Sveriges tröttaste tävling" where he demonstrated hypnosis and worked with  Josefin Crafoord, one of the show hosts, in a demonstrative purpose of hypnosis and the nature of the mind (see the video clip here >>>)
Hypnotised Erik och Mackan in the TV show "Snygga och smärta" and used hypnosis to improve athletic performances
Booked by OFP for Danish television as the hypnotist in the Nordic countries that got to work with the insider witness, Roger Östlund, on the murder of the Swedish prime minister, Olof Palme, as a part of the creation of the documentary movie "Jag såg mordet på Palme" (I saw the the murder of Olof Palme).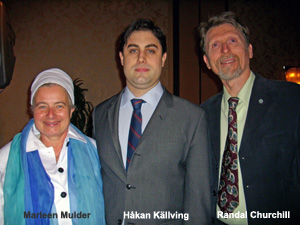 He has also been the "go to guy" and interviewed by large international companies, Philips to name one, for his profound knowledge in human nature and human behavior characteristics for their development of new products etc. Håkan Källving is regularly interviewed by companies, organizations and is considered a reliable source regarding hypnosis and hypnotherapy.
* The American Council of Hypnotist Examiners, with about 10 000 members, is easily the largest, oldest and most important hypnotherapy certification agency in the United States. It was not the first hypnotist organization, but it was the first to initiate Registration, the first to initiate Certification, and the first to initiate significant educational requirements for its members. It has always been the leader in setting and raising training standards, and is still the only major hypnotherapist certifying organization in the United States which requires that its approved schools are state-licensed as required by law.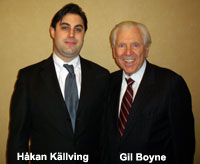 Håkan's teachers include some of the most respected leaders in hypnotherapy, Randal Churchill and Marleen Mulder, (The Teachers of the Teachers), Ormond McGill (The Dean of American Hypnotists), Tim Simmerman (President of the Hypnotherapy Academy of America & A.C.H.E.) – and most importantly the world's most effective hypnotherapist of all times: Gil Boyne. (Man of the century.)
As a kid, Håkan discovered early his fascination about dreams and messages conveyed from the subconscious. He wanted to learn more about the "hidden" source where all this stems from and gain a better understanding of it. During his teens he was very active in athletics and earned a slot on Sweden's national team in the men's high hurdles. During this period Håkan was working with the idea how achievement and performance in athletics and other areas could be affected through a mental shift and by creating positive mental expectations.
Hypnosis works for everything in any area; there is no area in which hypnosis cannot have a beneficial effect. Whether it's fulfilling, solving or reaching something, there is always an application for hypnosis.
Contact Us To Find Out How It Can Help You.